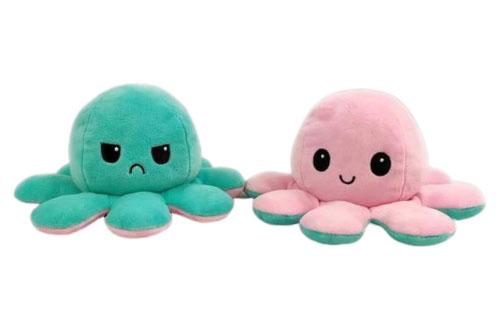 These days, finding an original gift for your loved ones can sometimes be difficult. To help you, here is the reversible octopus plush, a gift suitable for all occasions. Don't hesitate to offer it to your loved ones to please them or simply to show them your affection. You can also offer this plush to your children. Discover the characteristics of this reversible octopus and the occasions during which you can offer it.

Characteristics of the plush my octopus
The reversible octopus plush " My Octopus " is the perfect gift for your girlfriend. Made with a very soft fabric, this plush is comforting and funny. In addition, the reversible octopus shows two sides: sad and happy, which you can turn at any time. This plush is very flexible and can be adjusted to your wishes. You can use it as a decoration or as a stuffed animal. This reversible octopus is available in several colors and is perfect for cuddly moments.
The octopus plush is ideal for small children, but also for older ones. Its softness and its bright colors allow to stimulate the awakening of the little ones. The plush will do your morale good just like a vitamin cure would do you good. This plush can comfort at night or simply serve as a room mate for older children. Its tentacles are also adapted to play or to be used as doudou to the babies. The reversible octopus is also very cute with its round eyes and smile.
When to offer this octopus plush?
The reversible octopus mon is a great gift for any occasion. Give it for a birthday and make a friend, family member or your significant other happy. This plush can also be used as a gift for Christmas. You can offer it alone or with other stuffed animals. Don't hesitate to surprise someone by having this plush delivered directly to their home.
For children and adults
You can also offer this plush at a baby shower or baptism. In addition, it has the advantage of being suitable for both girls and boys. You can offer one or more to make your children happy. Don't hesitate to offer to older children like teenagers. This octopus plush is perfect for decorating the bed or even your teen's room. Adopt different colors to bring a colorful touch to any room in the house.